More Cool Stuff
Page 1
Page 2
Page 3
Page 4
Page 5
Page 6
Page 7
Page 8
Page 9
Page 10
Help Others
---
When and How Will the World End urban explore How to Beat Depression
Urban Exploration & Abandoned Buildings
Find information on Urban Exploration and Abandoned Buildings.
New York City and others. See an Abandoned Sanatorium
in Wisconsin.

Access All Areas: A User's Guide to the Art of Urban Exploration

Do you enjoy exploring old and abandoned building? If so this page is just right for you. Urban exploration is also called urbex or UE and is the exploration of old building, most of which is off limits. It can make it more exciting to sneak by the keep out signs and prowl inside. However these keep out signs are usually up for a reason and caution should be used.

The old building near our place has weak floors that you can fall through. The traffic has gotten so bad in the old health home up the road from us, that they have plans to tear it down so if you want to see it get there fast. The best way to see it is to get permission first. A couple of teenagers with cameras asked and got permission and was able to get many pictures of the old place.

Other names used for Urban exploration are draining, urban spelunking, urban caving, vadding, building hacking, reality hacking and roof and tunnel hacking.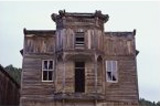 Elkhorn Ghost Town, Montana, USA Photographic Print
Commissions Earned
---
Find More Urban Exploration & Abandoned Buildings Here:
Urban Exploration
Abandoned Buildings
Ghost Towns
Commissions Earned
---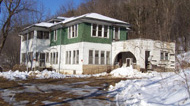 Update! This place has been burned down and is no longer there.
This is a photo of an abandoned Sanitarium or health home in Wisconsin. The grounds used to be an academy (Hylandale) for youth. Also beside is an abandoned girl's dorm. Some locals call the girl's dorm haunted and take illegal tours of both old buildings. No trespassing signs are posted but people sneak in any way. Actually a person could probably get permission to do some urban exploration of the old building if they would ask. But it could be dangerous to explore these old buildings since some of the floors are weak and you could fall through.
Jane Hallock of Hylandale is hoping to fix up the Old health home for a youth retreat. If you are interested in seeing more information and photos click Abandoned Building
---
---
Dear Urban Exploration Fans,

I am writing to you in behalf of your Heavenly Father. He is seeking you like a lost sheep. You remember the Bible story? It is about a shepherd who has 100 sheep. But when he brings the sheep home one night, one is missing. He then leaves the 99 sheep and goes out into the wilderness until he finds that lost sheep.

In this parable the shepherd goes out to search for the one lost sheep-the very least that can be numbered. So if there had been but one lost soul, Christ would have died for that one. To read more click Lost Sheep
---
Susan Dietel
Web Programmer
Email: susansdesign@yahoo.com
Web Site