More Cool Stuff
Page 1
Page 2
Page 3
Page 4
Page 5
Page 6
Page 7
Page 8
Page 9
Page 10
Help Others
---
When and How Will the World End Tandem ChainMail Bicyles Mountain Bikes Bycicles Vintage Clothing
How to Beat Depression Bycycles Dirt Bikes for Sale
Tandem Bicycles
Tandem Bicycles for Sale. These include new and used, cheap and the best. Schwinn, Cannondale, Sun, Tandemania Milano, Mountain Tandem Bikes.
On this page you will find many tandem bikes for sale plus accessories. We live close to a bike trail so my wife and I decided to get a bike that would keep us together, otherwise I would leave my wife in the dust. The photos on this page show some of our adventures together.

The white container on the back is actually a new plastic garbage can that works really great for carrying a lot of our stuff. It is lightweight and stays dry when covered with a plastic bag.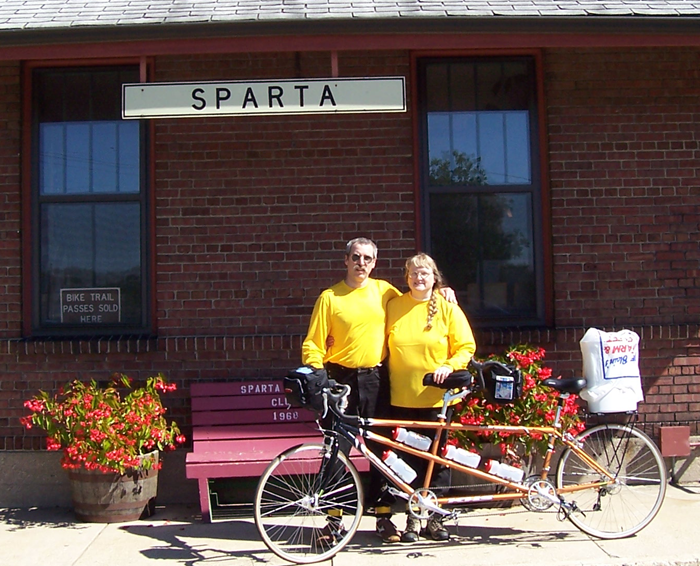 One of our longest trips was when we visited my brother and his family. They lived over 100 miles away and we decided that it would be fun to get there on our bike.

We started out early with plans to stay at a motel halfway there to make it more fun for my wife. By myself I would have just peddled straight through or else brought a sleeping bag to throw on the ground but my wife wanted to enjoy the ride so the motel was definitely in.

Photo - Posing in front of the Sparta WI bike (old train station) station along the Elroy-Sparta State Trail.
Along the Elroy Sparts bike trail with my Tandemania Milano. The trail is really nice with bridges, places to rest and beautiful scenery.

On our first day we got turned around in a park that was supposed to be a short cut and added 10-20 more miles to our trip but finally made to our motel. We planned to buy something to eat from a tiny market that was the only one in town. We looked the store all over and there
was only junk food. No bread and cheese or fruit or anything that would have been better for us so we bought some chips and candy bars to get us through.

We arrived the next day at my brother's place and had a good visit. The return trip was much better because we didn't get turned around and stayed in a different town that had a nice motel and a better store where we could get real food.

We took other trips on our tandem bicycle. They were shorter and averaged between 25 and 50 miles each and usually were on the local bike trail. This trail was made from an old railroad track and passed through a couple of old tunnels. One was almost a mile long on the Elroy-Sparta State Trail. (Wisconsin)

Some of the great features of this bike trail are the tunnels. This one is close to a mile long and is an adventure to pass through.

To pass through a long tunnel we would get off the bike and walk. It got pretty dark and there would be water dripping from the ceiling and sometimes it would have been helpful to have an umbrella and a light. But then all this added to the adventure and it was good to keep our packs as light as we could.

Our biggest complain was the bicycle seats. We replaced them with ones that were healthier

and more comfortable but still our butts got a lot more sore than our legs and sometimes it was good to take a break and just walk the bike for a while.

---

Tandem Bicycles Here

Affiliate links from EPN
---
---
Check These Out
---
Dear Tandem Bike Fans,
I am writing to you in behalf of your Heavenly Father. He is seeking you like a lost sheep. You remember the Bible story? It is about a shepherd who has 100 sheep. But when he brings the sheep home one night, one is missing. He then leaves the 99 sheep and goes out into the wilderness until he finds that lost sheep.

In this parable the shepherd goes out to search for the one lost sheep-the very least that can be numbered. So if there had been but one lost soul, Christ would have died for that one. To read more click Lost Sheep
---
Susan Dietel
Web Programmer
Email: susansdesign@yahoo.com
Web Site
---
Powered by WebRing.