More Cool Stuff Page 1 Page 2 Page 3 Page 4 Page 5 Page 6 Page 7 Page 8 Page 9 Page 10 Help Others
---
When and How Will the World End antique Antique and Vintage Gas Pumps oil can Antique Wooden Wagon Wheels
Vintage Baseball Gloves vintage Vintage Prairie Bonnets oil cans How to Beat Depression
Antique Mason Jars
Antique & Vintage Mason Jars. These old jars are fun to collect and can be valuable too. Add to your own
collection and see photos of mine. Ball and Kerr Mason Jars, Worth and Value. Might even find one dated 1858.
Vintage Mason Jar

Food preservation before the nineteenth century was a constant problem. Early methods of preserving food included drying, burial in sand, pickling or dry packing. Most of the food that was stored became foul or unpalatable before the end of the winter.

Nicolas Appert of France was the first to experiment with canning food in glass. Louis Pasteur's experiments led to the discovery that heat could be used to kill microbes.

The idea of putting food into glass and heating it after the jar was sealed revolutionized the eating habits of Europe and America. Families could now safely preserve more varieties of fruit and vegetables and enjoy them year round.

Glass fruit jars were made by Dr. Dyott around 1830 and used cork closures. Airtight closures were necessary to keep food from spoiling.

Article and Photos Continued below...
---
More Antique and Vintage Mason Jars
Affiliate links from EPN
---
Check these Out
---
---
The next development in fruit jar enclosures came in 1858 when John Landis Mason, a tinsmith, patented a low cost screw-top jar. John Mason's lids were made of zinc which was not a desirable material to be in contact with food. A glass lid was that was placed inside was designed.

The name "Mason" became the generic term for glass jars used in home canning. Having the Mason jar filled with attractive food, lined up on shelves, livening up dull winter menus, led to the popularity of the Mason jar.

Even with modern conveniences, home canning is still popular and fruit jars handed down through generations are still in use

Antique Glass Mason Jars

The collecting of Mason jars, which is relatively recent, appeals to all who want a décor that can hold interesting objects like marbles, yarn balls, candy, toys ect. to display along a shelf or to add a touch of country charm and nostalgia.

Highly collectible fruit jars are those with interesting names on the front such as "Gem," "The Kalamazoo," "The Queen," "The King," "Lustre," "Presto," "Lighting," "Globe," "Fruitkeeper," and of course "Mason" and "Ball."

Glass fruit jars were made in varying colors like; aqua, clear, black, milk glass, amber, emerald green and cobalt blue. The most common are the jars with the green-blue color. The small pint sized mason jar that has a light teal green color with older styled script has more value and is sought out by collectors.

Colored jars can command high prices and will continue to increase in value as collecting becomes more popular.

Some other items found here: wholesale mason jars, cookies in a mason jar, discount mason jars, mason jars wholesale, value of ball mason jars, mason jars for sale, buy mason jars, value of blue mason jars, ball jar and the Kerr jar.
---

Vintage Canning ones in our Barn

Make great decoration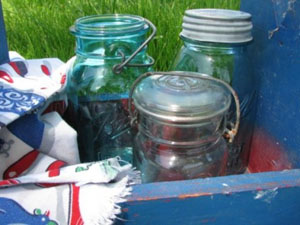 Ball Mason Jars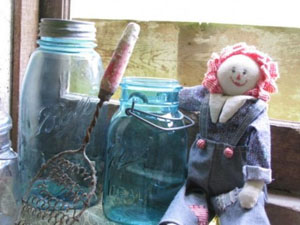 Decorations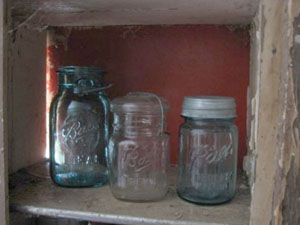 Old Ball
---
Dear Antique Mason Jars Collectors,

I am writing to you in behalf of your Heavenly Father. He is seeking you like a lost sheep. You remember the Bible story? It is about a shepherd who has 100 sheep. But when he brings the sheep home one night, one is missing. He then leaves the 99 sheep and goes out into the wilderness until he finds that lost sheep.

In this parable the shepherd goes out to search for the one lost sheep-the very least that can be numbered. So if there had been but one lost soul, Christ would have died for that one. To read more click Lost Sheep
---
Susan Dietel
Web Programmer
Email: susansdesign@yahoo.com
Web Site